Are you looking for ideas of entertainment or relaxation in your backyard? Need another space to enjoy the outdoors during the summer? Considering to enhance the deck or patio installed? A solution or answer to these questions is to add a Pergola!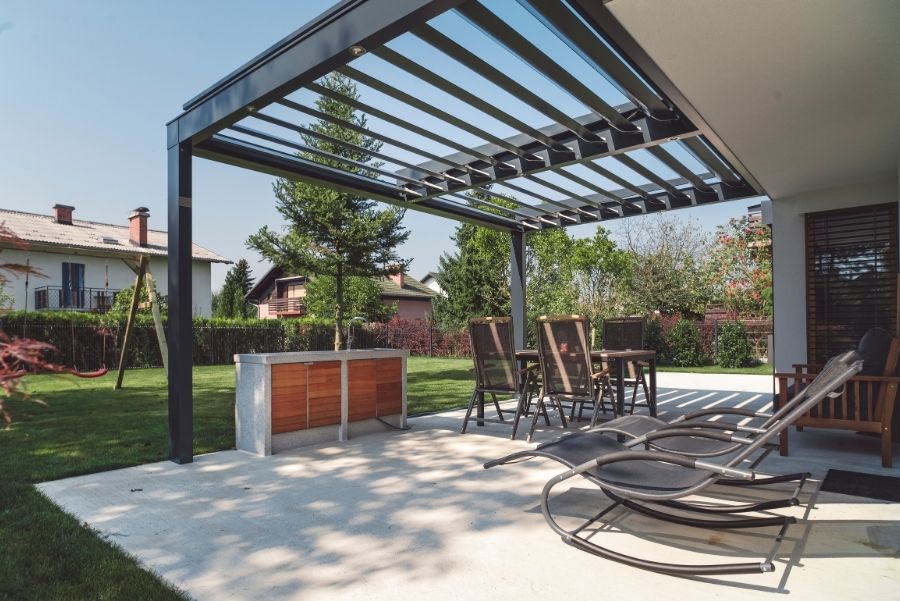 Why Pergola?
It is a simple rectangle structure with fixed dimensions. It may look like an incomplete structure with horizontal and vertical beams without any concrete roof or walls, but it is perfect for turning your backyard into an outdoor living space. Here are the reasons for having a Pergola:
It is the outdoor sanctuary for your family and friends/guests. You can create an entertainment lounge for your family or guest/s. There are many activities for your family under the Pergola. It is either dining in style or relaxing while sipping your wine bottle and even barbeque (BBQ) during the weekend. It is the place to extend your hospitality other than your living room. It offers shades and attractive spots for activities and cookouts.
A pergola can be a place to display your flowers and plants. It is appropriate for plants that grow upwards and create a beautiful natural ceiling as they intertwine themselves, producing a romantic feel. Additional accessories or creativity would bring personality to space by adding hanging plants and lights or curtains/linen fabric. The plants or flowers will attract butterflies and birds. The sound of chirping birds with beautiful butterflies flying around would make you feel cozy while relaxing during the warm summer afternoon.
A pergola can be the place to enjoy the summer sun without worrying about sunburn. There are options for retractable canopy or drapes or even screens for protection against any unpredictable weather, e.g. light rain. It offers protection against direct sunlight or unpredictable weather when entertaining or relaxing under the Pergola. It will increase the amount of time you spend outdoors.
Having a pergola can add value to your home if you decide to sell your house. It adds beauty, stylish touch and additional landscape to your backyard. It is also an alternative if you do not install a deck or patio. These are different merits that are attractive to the potential buyer.
Is Pergola affordable?
It depends on your budget. There are multiple types and design materials available, namely wood, Vinyl, and Fiberglass.
The least expensive option is Pressure-treated wood. It is best to be painted or stained, treated with preservatives to withstand outdoor use. The preservation is necessary as the wood can warp or crack during its lifespan.
For the Pergola, which requires less maintenance, Vinyl would be the best choice as it would not require annual paint or stain, unlike the wooden Pergola. On the flip side, it has a limited colour option if you decide to paint it.
The most expensive type is Fiberglass, but it has many advantages. It has a longer lifespan, lower maintenance, more robust and can act as an addition to an existing patio or deck. Fibreglass doesn't require annual paint or stain or any deep footer, unlike its other counterpart.
Another type would be Western red cedar wood which is a popular choice. It is more expensive than Pressure-treated timber, but it has a longer lifespan and looks more beautiful.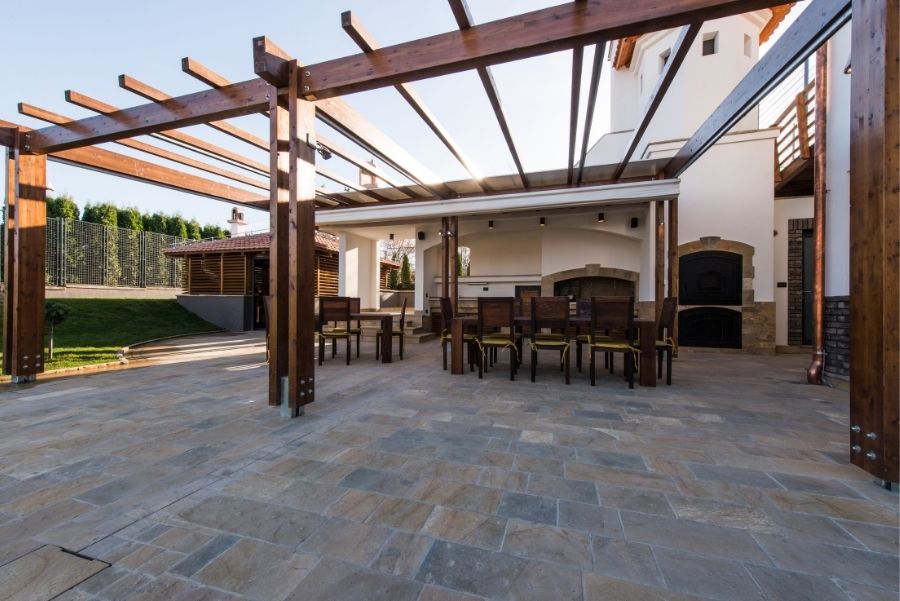 What is the point of having Pergola?
Installation of a Pergola
It is flexible, depending on your budget and choice. You may appoint a local landscape professional to design and custom build it, or you may purchase a kit from many well-known manufacturers. If you love DIY projects, the installation of Pergola would be a perfect project for you.
Having a pergola is worth the investment. It is less expensive than the installation of a gazebo or pavilion. It adds value to your property, and the most benefit is the spot for entertainment for the family and friends/guests.